Wuffy Media Player Universal v3.5.7 MOD
Wuffy Media Player Universal we are able to Play and enjoy favorite live streams and local media on your mobile device. It will allow users to turn their smartphone into a fully functional player for their audio and video content in no time.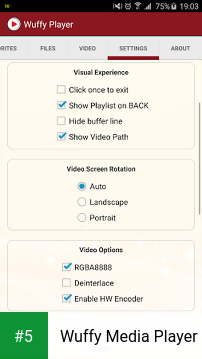 Features Of Wuffy
Will Plays almost all media files and network streaming protocols
The  video containers are  ( DivX, Flv, m3u8, mkv, MOV, mp3, mp4, mpg, mts, Ogg, Rm, Rmvb, ts, WMV),
video formats  include(aac, ac3, amr, DivX, h263, h264, hevc, mpeg2, mpeg4, Speex, vp9, WMV)
protocols (HTTP, HTTPS, MMS, RTMP, RTSP).
Fast access to your media library for audio and video files
Hardware acceleration using internal HW decoder
Multi-core CPU decoding
Multi-track audio and subtitles.
Automatic screen rotation
Screen controls for volume, brightness, and seeking
Load your m3u playlist from a local or remote store
Why choose Wuffy Player?
Convenient user interface
It will use the full potential of your device while playing video
Get access to full metadata of media
Website
If you would like to check out the official release then look at their website HERE. This is the official website according to the playstore link. The BETA version will be available via the google playstore if you are opt-in to the beta program.
Playstore
Depending on the device you use version numbers vary, this might also depend if you opt into the google store beta program. For the official playstore link CLICK ME, this will keep you updated with the latest fixes and new releases.
Alternative Player
One of the most common players people use is the MX player if you haven't done so yet check it out. It can play all kinds of formats and it's most used for external playback for the most popular streaming apps.
Mod Details
Re-mod should work on many devices previous mod failed on
Analytics disabled
Receivers disabled
Signature check disabled
Some permissions and services are disabled
Mod by hifi 2007 reviews